Biography Sima Zaheri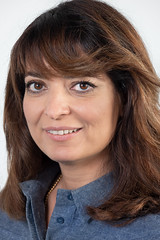 Sima Zaheri has been working at Stichting HIV Monitoring (SHM) since it was set up in 2002 and has been deputy director since June 2017. In the years prior to becoming deputy director, Sima was the manager of SHM's data and QC unit and part of the management team. Sima studied medical biology at the University of Amsterdam and, since 2002, has focused on setting up and driving the systems for data collection, data processing, quality improvement and quality maintenance. As deputy director, Sima plays an active role in forming SHM's strategy.
On behalf of the director, she is responsible for the day-to-day implementation of this strategy in terms of data & QC, human resource management, finance and control, and organisation and data security, and drives various organization-wide operational management processes. Sima works closely with the HIV-treating physicians, researchers, nurse consultants and others who use SHM's data in the 26 HIV treatment centres in the Netherlands to ensure that important developments in the HIV and AIDS field are translated into processes, and to monitor the quality and efficiency of these processes on an ongoing basis. Within this context, Sima has managed several innovation and improvement projects.