Biography Sima Zaheri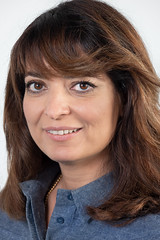 Drs. Sima Zaheri has worked for the SHM organization since it was founded in 2002. To start mainly as manager of the Data & Quality Control unit, later as part of the management team; since 2017 Sima was deputy director. As of April 2021 she and Prof. Marc van der Valk form the board of SHM and are jointly responsible for the operational management of the organization. Sima studied Medical Biology at the University of Amsterdam and since 2002 has devoted herself to the organization and management of processes for data collection, processing, quality improvement and quality control.
Over the last years as deputy director at SHM Sima mainly worked on the policy-development side of organization, specifically for the units Data & Quality Control, Human Resource Management, Finance & Control, and Privacy & Data security (GDPR). In addition, she has always worked externally closely with HIV counselors, HIV practitioners, researchers and users of SHM data across the 24 HIV treatment centers in the Netherlands to be able to translate important developments in the field into data collection – and monitoring- processes. In that context she has led various change projects.