RIVM: Fewer HIV diagnoses at sexual health clinics in 2015
12 April 2016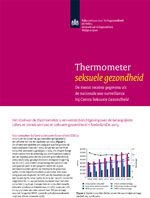 The 2015 Sexual Health Thermometer, released today (12 April 2016) provides an update on the STD tests carried out at sexual health clinics in the Netherlands. The report shows that the number of registered STD consultations dropped by 3% compared with 2014. This drop was seen mainly in women and heterosexual men and has been ascribed to the financial capping in 2015 of a specific regulation ('Aanvullende Seksuele Gezondheidszorg' (ASG)) to provide high-risk groups withfree of charge STI/HIV testing. The report also found an increase in the number of detected STDs (17% of consultations compared with 15.5% in 2014). This rise was seen primarily in women and heterosexual men and may be due to the fact that more people who seek testing belong to the highest-risk group.
HIV
In 2015, 288 new cases of HIV were diagnosed through the sexual health clinics. This represents an 11% decrease compared with 2014. Of these new HIV diagnoses, 90% (260 diagnoses) were made in MSM. There was a marked decrease (44%) in the number of women and heterosexual men seeking HIV tests. This is due to a change in the regulations, whereby young people can now only seek free testing at sexual health clinics if they have a clear indication for HIV testing.
The Sexual Health Thermometer
The Sexual Health Thermometer provides an initial report on the key figures and trends in STDs and sexual health in the Netherlands in 2015. The figures have been provided by the sexual health clinics, the public health services, Stichting HIV Monitoring, Rutgers and medical microbiology laboratories. The RIVM's 2015 Annual Report on HIV/STDs in the Netherlands will be published in June 2016.
The latest edition of the Sexual Health Thermometer (in Dutch) can be read here.
Newsletter Sign up