In memoriam Prof Charles Boucher
04 March 2021
We are all much saddened about the passing last week, at a much too early age, of Prof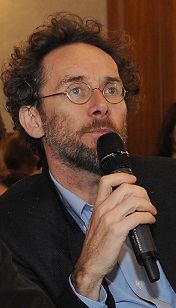 Charles Boucher.
I believe Charles and I first met at the AMC in Amsterdam during the late 1980s and subsequently worked often and intensively together during our PhD research in HIV with professors Jan van der Noordaa and Jaap Goudsmit.
A research letter published in The Lancet by myself and co-authored by Charles, Joep Lange, Sven Danner, Menno de Jong and Jaap Goudsmit, in which we describe two patients in whom, after initial suppression of serum p24 antigen during treatment with zidovudine monotherapy, p24 levels rebounded after several months of continued treatment, ended with the following sentence:
"Further investigations are needed to establish the frequency and clinical relevance of this resumption of viral production in vivo during zidovudine treatment and the mechanisms involved" (1).
The mechanism for the viral resistance underlying our observation was published the following year by Brendan Larder who worked at the Wellcome Research Laboratories, the manufacturer of zidovudine. A collaboration with Larder arose and a few years later Charles obtained his doctorate on this subject, with Brendan Larder as co-supervisor, among others. Charles has received international recognition for his research into antiviral drug resistance and has continued this research throughout his career. He also was able to successfully pass on his passion for the subject to several colleagues, including Rob Schuurman, Menno de Jong, Monique Nijhuis and Anne Wensing. In recent years, Charles also devoted himself intensely to research into HIV cure, the ultimate goal he had in mind as the culmination of all his career-spanning HIV research.
In addition, Charles always had a great talent and passion to articulate science in an accurate and easy to comprehend manner to wider audiences. Not just that, but also to spark young talent's interest for science. Hence, his step to founding Virology Education made perfect sense. Through Virology Education, Charles and his colleagues at VE were able to make up-to-date information about the latest insights and developments in the field of HIV accessible to healthcare providers and researchers around the world. The countless workshops on many HIV-related topics are widely praised and appreciated internationally, most recently also including various stellar webinars concerning COVID-19. Thanks to his extensive international network, Charles was always able to attract the top experts in their field as speakers.
I would like to express my wish that his direct colleagues, both at the Erasmus MC and at Virology Education, will be able to carry on Charles's scientific and educational legacy with the same passion and inspiration, and that this may provide them with some sense of comfort. With Charles' passing, the Dutch HIV field loses another striking, committed, passionate and activist researcher and colleague.
Our thoughts are with his wife and children.
Peter Reiss
1) Reiss P, Lange JMA, Boucher CAB, Danner SA, Goudsmit J. Resumption of HIV antigen production during continuous zidovudine treatment. The Lancet 1988.
Video clip from 1992: news item featuring coverage of the 1992 International Aids Conference in Amsterdam. From 00:45-01:20 Charles (34 at the time) comments about viral resistance and his ideas how this could be prevented.
Newsletter Sign up