NVHB ambassadeur: Henrieke Prins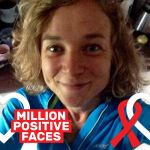 Kan je kort iets over jezelf vertellen? Wat is je achtergrond in de hiv-zorg en wat doe je nu?
Als internist-infectioloog in opleiding houd ik me bezig met hiv-behandeling en als promovendus ben ik bezig met studies op het gebied van hiv-genezing en -eliminatie.
De NVHB, SHM en V&VN hiv consulenten organiseren samen een Meet&Greet tijdens de Positive Flame tour, onder de slogan "Working together for excellent HIV care". Hoe belangrijk is deze samenwerking voor de hiv-zorg, in jouw ogen? Is het in jouw dagelijkse werk ook zichtbaar?
Die samenwerking is ontzettend belangrijk. 'Excellent HIV care' is haalbaar, maar het is teamwork. Als infectiologen zijn we landelijk georganiseerd in de NVHB om zo onze kennis ten aanzien van hiv en AIDS te waarborgen. Zonder het werk van SHM zou dat niet mogelijk zijn. In de kliniek werken we intensief samen met de consulenten om zo de beste zorg te bieden. Lijntjes met de GGD of bijvoorbeeld de hiv-vereniging of stichting MARA zijn kort, zodat we niet alleen goede, maar ook complete zorg kunnen bieden.
Je bent de ambassadeur van de NVHB bij de Meet&Greet. Wat hoop je als ambassadeur over te brengen?
Eliminatie van nieuwe gevallen van hiv is haalbaar. Daarvoor is van belang dat we mensen vroeg opsporen en behandelen, en dat we die 2600 personen in Nederland die zich niet bewust zijn van hun hiv-infectie, weten te bereiken en in zorg krijgen. Een tweede is de strijd tegen stigma. Patiënten vertellen mij dat ze anno 2018 nog steeds door de tandarts achteraan het spreekuur worden geplaatst. Dat kan niet! We moeten hiv bespreekbaar maken, want pas dan kunnen we het stigma aanpakken en echt "excellent hiv care" leveren.
Waar kijk je het meeste naar uit in de week van AIDS2018? Zijn er bepaalde presentaties of evenementen waar je graag bij wilt zijn? Of ben je zelf bij iets betrokken?
Natuurlijk ben ik geïnteresseerd in de laatste wetenschappelijke ontwikkelingen, vooral op het gebied van hiv-genezing, maar waar ik ook naar uit kijk is de ervaring van het bijwonen van een congres met zo'n historie en waarvan de deelnemers zulke diverse achtergronden hebben. Ik vind het ook ontzettend gaaf om mee te doen met de Positive Flame tour en ik ga zeker ook een kijkje nemen bij de Global Village. Op m'n lijstje staat verder de sessie over acute hiv van Eduard Sanders, bij wie ik eerder in Kenia onderzoek heb gedaan. Omdat het een interessante sessie zal zijn, maar ook omdat ik het leuk vind Eduard en zijn team weer te zien.
Welke boodschap hoop je dat de wereld meeneemt over hiv in Nederland na AIDS2018?
Nederland laat zien dat hiv-eliminatie in de toekomst niet langer een onrealistisch streven is. Maar hiv houdt zich niet aan de grenzen van een land. Aandacht voor betere zorg en stigma, juist in de regio's van de wereld waar het op dit moment minder goed gaat, is iets waar we met elkaar, over grenzen heen, aan moeten werken, want alleen dan is hiv-eliminatie in de toekomst haalbaar!
Newsletter Sign up