ART-CC: Life expectancy for people with HIV has increased by 10 years in the US and Europe since introduction of antiretroviral therapy
11 May 2017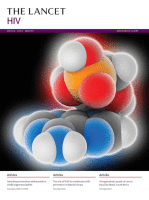 In a paper published today in Lancet HIV, the Antiretroviral Therapy Cohort Collaboration (ART-CC) revealed that life expectancy in individuals starting combination antiretroviral therapy (cART) has increased by about 10 years since cART was introduced. While life expectancy for people with HIV mostly remains lower than that of the general population, the authors project that life expectancy of a 20-year-old who began antiretroviral treatment from 2008 onwards and had a low viral load after a year of treatment may match that of the general population (around 78 years old).
ART-CC is a collaboration of 18 European and North American HIV cohorts, including SHM's ATHENA cohort, of ART-naïve people living with HIV aged 16 years or older who started treatment with three or more antiretroviral drugs between 1996 and 2010. This study used data from 88,504 PLWH and tracked how many people died during the first three years of treatment, their cause of death, HIV viral load, immune cell (CD4 cell) count, and whether they were infected through injecting drugs.
Read the full article here.
Newsletter Sign up