V&VN ambassador: Klaas Hoeksema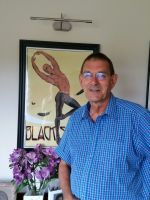 Could you tell us a little about yourself and how you came to be working in HIV care?
When the AIDS epidemic began, I was a psychiatric nurse at the AMC. It was a frightening time, both professionally and personally. In 1985 I became a nurse consultant in the AMC's HIV/AIDS department, where I helped to set up the outpatients' clinic and was involved in nationwide education campaigns.
In 1990 I switched to the OLVG, where I still work today, and set up the outpatients' clinic here. There has been a lot of progress over the years and we have now reached the situation where nurse consultants run the outpatients' clinic independently, with supervision from the doctors in the background. We have a great team and I still enjoy the work!
The NVHB, SHM and V&VN hiv consulenten are organising a Meet & Greet during the Positive Flame tour, under the slogan Working together for excellent HIV care. How important do you think this collaboration is for HIV care in the Netherlands? How visible is it in your daily work?
This collaboration is very important for HIV care. As a nurse consultant I have been used to working closely with HIV-treating physicians since 1985. I think this feature of working as a tight team in which you are able to discuss everything with each other is very particular to HIV care. So, for me, the collaboration between the NVHB and the V&VN is very visible in my day to day work.
However, SHM also plays a very important role in the work of nurse consultants. We are the ones who inform new patients about SHM during their first visit. We explain that SHM collects encoded patient data and, nowadays, we also tell them that SHM studies other aspects such as cardiovascular disease. In addition, nurse consultants ask new patients for consent and register them with SHM. In other hospitals, we also have nurse consultants who have a dual role and also do the data collection for SHM.
You are the ambassador for the V&VN hiv consulenten during the Meet & Greet. What message do you hope to convey as ambassador?
It is important that we demonstrate that, as a group, we work together to provide good healthcare. In terms of the V&VN, it is also important to show that, as nurse consultants, we are there to support and guide the patients. This is something I'd personally like to make visible to the outside world.
What are you most looking forward to in the week of AIDS2018?
Well, we still need people to run the clinic, so I will only be partly going to AIDS2018 and primarily to the Global Village. I think it's going to be a great experience and a good opportunity to attend presentations and catch up with colleagues.
I'm also looking forward to the Association of Nurses in AIDS Care pre-conference on Sunday 22nd July. And of course I'll be participating in various other events during the week, including the Positive Flame tour of course and the Power of Love.
What message about HIV in the Netherlands do you hope the world will take home after AIDS2018?
The set-up for HIV care in the Netherlands is quite unique and serves as a good example for other countries and other diseases. It is important that we underline how well HIV care is organised in the Netherlands and, in particular, the role of nurse consultants. Because, despite the openness in our country, people are still frightened when they are diagnosed with HIV, and then it is our job as nurse consultants to support them and provide the correct information.
However, even in the Netherlands we need to focus more on HIV to tackle the lack of understanding, fear and stigma that persists among certain groups. I therefore hope that the Positive Flame tour will show that we are very tolerant in the Netherlands and that this will open the eyes within certain groups our country where HIV-associated stigma still exists. We must keep working to change this.
Newsletter Sign up