Interview with AIDS 2018 chairs, Professors Linda-Gail Bekker and Peter Reiss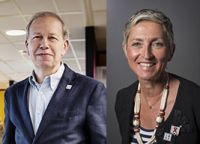 This summer, Amsterdam will be hosting AIDS 2018 from 23-27 July. To find out a little more about the preparations for this major international conference, we spoke to the president of the International AIDS Society (IAS) and international co-chair of AIDS 2018, Linda-Gail Bekker, and her co-chair, Professor Peter Reiss, during a recent IAS visit to Amsterdam in April.
Welcome to Amsterdam. With just a few months to go, it must feel like time is moving very fast now. How are the preparations getting along?
Linda-Gail Bekker (LGB): This last week has been a very important week for the conference. It's affectionately known as the marathon meeting, but it truly was a marathon just in terms of the number, depth and breadth of the abstracts we've had. However, we've now formed the abstract-driven programme and we're feeling very optimistic about it.
Peter Reiss (PR): Yes, there were a lot of abstracts from different geographical regions. One of our objectives from the outset was to shine a light on Eastern Europe and Central Asia, and I think everyone has actively worked to ensure this theme is visible. I'd also like to take this opportunity to acknowledge the efforts of all the teams that have worked hard to put together a comprehensive programme and have shown a great deal of creativity in designing compelling session titles that will attract people's attention.
Are you able to tell us a little about the programme?
LGB: I think we can say that all the topics relevant to the field at the moment will be there, such as new drugs, new ways of combining antiretroviral drugs, pre-exposure prophylaxis, HIV cure, co-infections and many other important topics.
The theme of moving and migrant populations, wherever they may be moving in the world, is also represented. Attention will also be paid to key populations, sex worker populations, men who have sex with men, and of course, in the context of where we are in the world, intravenous drug user populations.
And we're starting to hear that politicians, leaders, and celebrities will be attending. We're not letting all the cats out of the bag yet, but you won't be disappointed!
Are there any particular plenary speakers that you'd like to highlight?
PR: There's a lot to pack into four days and we have a great variety. We have several relatively younger rising stars and, personally, I'm really looking forward to that part of the conference.
Is this something unique to AIDS 2018?
LGB: Yes. We felt that, particularly in certain topics, it would be a fresh approach to have a really talented mid-career person who's clearly on a trajectory. This is epitomised in Brad Jones, for example, who'll be talking about the new science in terms of cure, vaccine and other areas.
PR: The other person we should mention is Emily Hyle, who's an up and coming young infectious diseases expert from a group that does a lot of research in the area of disease modelling. Emily will address the interactions between HIV, other infections, and non-communicable diseases.
LGB: And although we can learn a lot from how the Netherlands has handled the epidemic over the years, Kenya is also doing really bold work on prevention in key populations, as well as in heterosexual populations. This programme is run by Nduku Kilonzo and she'll be speaking with that passionate first-hand experience of a country that, to my mind could be the Netherlands of Africa in this regard. But of course we've got the stalwarts there as well. For example, Peter Piot will be looking at HIV in the global context, and Pedro Cahn will discuss ARV therapy.
You mentioned Eastern Europe and Central Asia as an important topic for the conference. Are there any other themes you can tell us about?
PR: Youth will be an important and very visible theme and we've taken quite a novel approach by inviting someone from outside the HIV field to discuss neurocognitive science and adolescent behaviour and how it affects HIV prevention and treatment.
LGB: Yes, adolescent HIV is still one of the tough nuts to crack both from a prevention and a treatment point of view, so we're hoping this approach will help us better tailor our programmes. In fact, we shine a light on adolescence for one whole day. We've also got a very exciting social media group who are doing cutting-edge work to engage young people on issues like HIV and reproductive health. They'll be showing their work on the big screen, which should be very compelling and interactive. We are also bringing young people from diverse backgrounds onto the stage to discuss how young people can grow into leadership.
For someone who has never yet attended the AIDS conferences, what advice would you give them?
PR: If you've never been, you're in for a surprise because it's unlike anything else you've ever gone to. It can be very overwhelming, so one piece of advice is to look at the programme in advance, make your choices and stick to them. There will also be a system of so-called roadmaps, providing routes between presentations and events with a shared theme.
LGB: My advice is don't take notes, just sit and absorb. A good amount will be webcast so you can flag a talk and listen to it later. The point is to share ideas and interact with people. And if you're at all interested in the social activism side of it, you must go to the global village.
PR: I would also recommend taking the opportunity to listen to other things, besides just your own area of expertise.
LGB: Having said that, we do want everyone to go and read the posters. This is where the gold is and where the road maps will be useful. There will be a fresh set of new posters every day, with around 800-900 posters being exhibited each day. The abstracts will also be online and published in JIAS.
And please stay for the last day and the rapporteur session. It's a huge amount of work for the teams who put it together and really worth staying for. In just two hours you'll get a very good overview of the whole conference.
What else is happening around the conference?
PR: Well, in the Netherlands we are organising a big event on 16 May in Amsterdam to raise awareness about the conference and to turn around the general public's perception that AIDS is no longer an issue, including in the Netherlands. This will include a moving exhibition with a focus on stigma that will be launched that day in Amsterdam and will subsequently travel to various cities in the Netherlands to spread the message around the Netherlands. The third component of the day is centred around youth. A group of young people will be in touch with youth in different parts of the world to discuss issues important to young people and to co-create a message that will also be carried to the conference in July.
Other than that, I know that there are numerous initiatives in both the global village and the city centre during the conference week. One example is an exhibition by a group called ATLAS 2018, who have travelled around the world to collect stories of people living with HIV and illustrated these by video and photography. Their exhibition will be held in the Beurs van Berlage and they will be bringing part of it to the global village. There's also the Positive Flame walk through the city on the Wednesday 25 July, culminating in a theatre event in the evening for people living with HIV from both the Netherlands and other parts of the world who have travelled to Amsterdam for the conference.
How can conference visitors find out about these initiatives?
PR: Someone is keeping track of all the Amsterdam activities and at some point this list will be linked to the conference website so people can choose what they'd like to go to.
What one particular thing would you like the conference to be remembered for?
PR:. I would of course like people to say that what was presented was great science. At the same time, I'd like it to be remembered as a moment of global solidarity and I hope that it will lead to improvements beyond the conference for those people in areas where things are presently out of hand, such as Central Asia and Eastern Europe.
LGB: I agree. I hope unequivocally that this will be the turning point for Eastern Europe and Central Asia. It's a lot to ask, but I would like this to be the point where we say it is unacceptable and, in partnership, act to stop things getting out of hand further there. If that's what we're remembered for, it would be the most spectacular thing.
Newsletter Sign up