NCHIV 2014: Ramin Sarrami Forooshani wins the Joep Lange and Jacqueline van Tongeren Young Investigator's Award
04 December 2014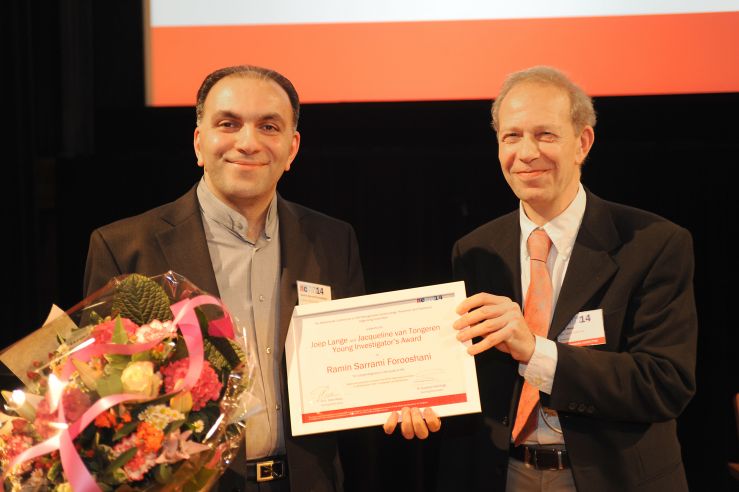 SHM congratulates Ramin Sarrami Forooshani (AMC-UVA) on winning the Joep Lange and Jacqueline van Tongeren Young Investigator's Award
During the 8th Netherlands Conference on HIV Pathogenesis, Epidemiology, Prevention and Treatment (NCHIV), the Joep Lange and Jacqueline van Tongeren Young Investigator's Award was presented to Ramin Sarrami Forooshani for his work in the field of HIV. Not only is the award a recognition of his contribution to HIV research, it also includes a prize of 1000 euros to be spent on a conference or other research-related activity.
Sarrami Forooshani's abstract was the highest-scoring of all submitted abstracts. "Not only was the his work of very high scientific quality, he was also able to clearly explain it to a wide audience. Ramin has therefore more than earned this award," according to Peter Reiss, chair of Stichting NCHIV board and director of Stichting HIV Monitoring (SHM).
Sarrami Forooshani was extremely surprised and pleased to hear he had won the award. He plans to spend the prize money on a visit to an international HIV conference. "I am thinking about the Annual Conference on Retroviruses and Opportunistic Infections (CROI)", explains Sarrami Forooshani.
This is not the first time that Sarrami Forooshani has received an award for his work. He previously won the World Health Organisation Bio award for medical biotechnology research. He also won a national grant in Iran to study abroad, after which he received a prestigious grant in Canada that allowed him to set up an international collaboration. In 2009 this resulted in the present collaboration with Prof. Theo Geijtenbeek's group in Amsterdam, where he now investigates the antiviral function of Langerhans cells as part of the host defense group in the Center for Experimental and Molecular Medicine (CEMM) and the Department of Experimental Immunology (EXIM).
Sarrami Forooshani's ambition is to carry out further translational research that will directly impact patient care, such as the development of a new vaccine. Alongside his work with Prof. Geijtenbeek, Sarrami Forooshani is currently head of the department of Innovative Technology at the Iran Cancer Research Center and he also has scientific duties at the Pasteur Institute in Iran. "I would like to combine both opportunities in the Netherland and Iran for productive collaboration. I am planning to develop joint projects between the Netherlands and Iran to perform translational research with a main focus of developing a therapeutic vaccine against HIV-1."
The award was presented to Ramin Sarrami Forooshani at NCHIV 2014 by Peter Reiss. Stichting HIV Monitoring congratulates Ramin on winning this award!
Follow this link to see Sarrami Forooshani's powerpoint presentation from NCHIV 2014.
Newsletter Sign up