International AIDS conference comes to Amsterdam in 2018
12 December 2014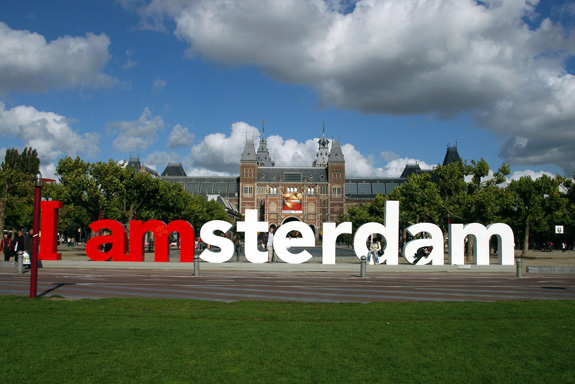 PRESS RELEASE Amsterdam, 12 December 2014
In 2018, the Netherlands will organise the biennial international AIDS conference, AIDS2018. Being invited to host this major conference is a sign of recognition for the role played by the Netherlands in the international fight against AIDS. The conference will take place in Amsterdam RAI in July 2018 and approximately 20,000 visitors are expected.
According to Lilianne Ploumen, Minister of Foreign Trade and Development Coordination, the Netherlands has been one of the front-line fighters against HIV and, as such, is particularly suited to organising this conference. 'The importance of the conference should not be underestimated: this is where ideas come together and new steps are taken. Although we have come a very long way in the fight against AIDS, there remains a great deal to be done. The fact that the Netherlands is to act as host is a wonderful tribute to AIDS researcher Joep Lange and the other AIDS activists who lost their lives on flight MH17.'
The importance of playing a leading role in the battle against HIV and AIDS remains unchanged today. Examples include making it possible for drug users to swap used needles for clean ones. In the run-up to AIDS2018, the Netherlands will urge other countries to remain committed. The international biennial AIDS conferences are the main platform in the fight against AIDS for researchers, policy makers, activists and industry.
Much progress has been made in recent years in the battle against AIDS. For example, the number of new HIV infections is dropping, with a 38% reduction worldwide since 2001. Moreover, pregnant women are increasingly less likely to transmit HIV to their infants and the number of AIDS-related deaths has also dropped by 19% in the last three years. On the other hand, 22 million people living with HIV have no access to medication and certain groups are becoming more severely affected, with worrying trends being reported amongst young women in Southern Africa and at risk groups such as sex workers, drug users and men who have sex with men. These issues will require greater attention.
This is underlined by Ton Coenen, Director of the Aids Fonds and SOA Aids Nederland, who also speaks on behalf of STOP AIDS NOW! 'It is fantastic that Amsterdam is to organise this conference. The Netherlands also has the major advantage that all groups most affected by the epidemic can come to the Netherlands for the conference, including drugs users and sex workers. This would not be possible in many countries'.
Executive Director Suzette Moses-Burton of the Global Network of People Living with HIV (GNP+) agrees. 'This announcement is wonderful news for all of us. And it provides a unique opportunity to showcase the successes of the Dutch HIV response both home and abroad. In addition the hosting of AIDS 2018 in Amsterdam will give us all an opportunity to create a fitting tribute to our friends and colleagues who we tragically lost on their way to AIDS 2014 and whose life works were always in the service of creating a better world for people living with HIV and key affected populations.'
A strong candidacy was put forward with efforts by groups such as the Amsterdam municipal council, the Ministry of Foreign Affairs and the Ministry of Health, Welfare and Sport, Amsterdam RAI, Amsterdam Marketing, the Aids Fonds, STOP AIDS NOW!, GNP+ (The Global Network of People Living with HIV in Amsterdam), the Academic Medical Center (AMC) and the Amsterdam Institute for Global Health and Development (AIGHD), the Amsterdam Diner Foundation, the Dutch HIV patient association (HIV Vereniging Nederland), the Netherlands Bureau for Tourism and Conferences, the Amsterdam Public Health Service (GGD Amsterdam) and Stichting HIV Monitoring. All parties want to work together to produce a conference that will pay tribute to the AIDS activists who lost their lives on flight MH17, including researcher and professor, Joep Lange.
"This is recognition for the many years that Joep played a leading role in scientific research in the field of HIV and global health from within the Netherlands and, in particular, Amsterdam. We are going to work together with all relevant parties to build a great conference" said Peter Reiss, Professor at the AMC/AIGHD and director of Stichting HIV Monitoring.
For further press information:
Amsterdam Marketing Press Office
www.iamsterdam.com/press
pressoffice@iamsterdam.com
020-7026260
Aids Fonds en Soa Aids Nederland
http://www.soaaids.nl/nl
Saskia Gaster
sgaster@aidsfonds.nl
06-51171518
Follow this link to read the IAS press release.
Newsletter Sign up